Metal stamping

Laser cutting

Tooling

Multi-slide Stamping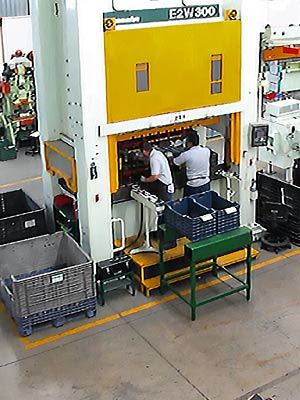 Stamper
We manufacture machined and sub-assembly metallic parts for the automotive and instrumentation industry, including:
Brackets
Assembly of parts with fasteners
Machined washers
Prototypes
Here at Stamper, we are dedicated to adapting our service to our clients' requirements in the areas of design, production and delivery in order to fully integrate ourselves into their production systems in an on-going, constant and uninterrupted fashion.
Stamper offers a press capacity of up to 300 tons, as well as laser cutting, the assembly of machined parts with fasteners and the design and manufacturing of tools. Furthermore, we have a quality laboratory which is equipped with the instruments necessary to ensure the quality of the parts that it manufactures.
The work done by the team at Stamper is governed by the SPS (Stamper Production System), which is based on our values, principles, systems and tools to help ensure client satisfaction:
Quality
We guarantee that our quality stems from where we manufacture our parts, and we ensure that it encompasses everything we do: from the very first to the very last item of every batch. Our employees know the products we manufacture and have the qualifications necessary for each operation.
Service
We manufacture parts based on our clients' requests in order to deliver on-time and in full compliance with their terms and requirements. This is why we have implemented a system that ensures that our production flows in a structured and uninterrupted fashion thus helping to support the demand for our products. We address changes in product orders, review them and then coordinate with the client in order to ensure the best possible result.
Voice of Customer
We coordinate face-to-face interviews in order to understand where we are in terms of the service we offer, including the quality of the final product, on-time delivery, the competitiveness in terms of our value proposition and the service offered by Stamper employees.
Awards and Certifications
Stamper is ISO/TS16949 certified and works with a number of client companies, such as Finesa, Tremec and Hi-Lex Mexicana. It has also been presented with the State Quality Award on two occasions, not to mention the State Export Award.
Here at Stamper, we are dedicated to adapting our service to our clients' requirements